Famous Fishing Spots in Dubai
What is it about fishing that is so appealing to people? Other than the fact that people fish for food, sport fishing has gotten people hooked. One of the significant reasons is that fishing satisfies the primal urge to catch. Fishing enthusiasts find adventure in the challenge of hunting a fish and feel victorious when they finally take the fish out of the water.
If you're a fan of fishing, why not hire a yacht and go deep-sea fishing in Dubai? You'll be able to find some of the best and biggest fish in the deep sea, and yachts typically have professional and friendly crews who can assist you. Most importantly, you'll have access to quality fishing equipment onboard so you can make the most of your experience.
Searching for the perfect fishing spot and purchasing the proper equipment can be time-consuming and costly, but hiring a yacht for deep-sea fishing is much easier. Deep-sea fishing in yachts is one of the best experiences to have in Dubai – you can relax inside the comfortable rooms onboard and enjoy light refreshments while you're at it.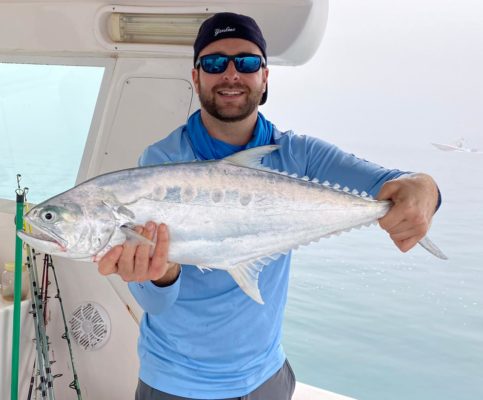 What is Deep Sea Fishing?
Deep sea fishing is a great way to get away from land and explore the deep waters. In Dubai, the minimum water depth for deep-sea fishing is 30 meters. However, keep in mind that deep-sea fishing is best for those who are really serious about fishing and enjoy it as a hobby.
Deep sea fishing is a great way to catch big fish like tuna, sharks, and swordfish. When you go fishing on a yacht, the crew is there to help you make the most of your trip and to ensure that you have a great time.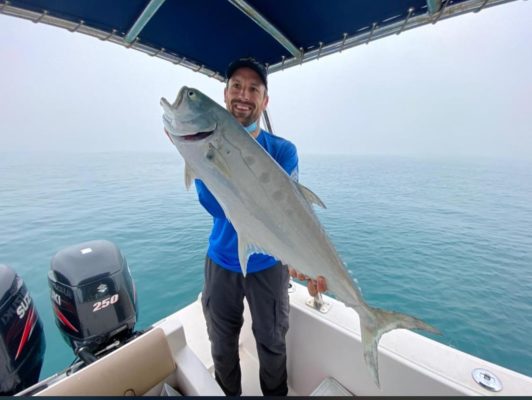 Best time for Deep Sea Fishing in Dubai
Although there isn't a specific time for when you can go fishing in Dubai, people do it all year round. However, if you are wanting to catch a specific fish, then knowing the peak fishing season is essential. Winter is an ideal time for fishing in Dubai because the fishes are near the surface due to enjoying the warmer temperature during winter months. Summer is when the fishes go deep into the sea as the water gets hotter. If you want to fish in summer, you can go before sunrise or late at night. Moreover, fishing on full moon nights is just a magical experience in summer.
The best time to fish for King Mackerel and Tuna in Dubai is from October to May, while June to September is better for Queenfish and Sailfish. All year round, you can also catch Hammour, Barracuda, and Tilapia in Dubai.
If you want to enjoy fishing in Dubai, there are several options available to you. You can go it alone or use the services of a licensed vendor. Those who prefer to fish on their own can carry their equipment to any fishing spot in Dubai. In any case, you will need a fishing license to go on a fishing trip in Dubai.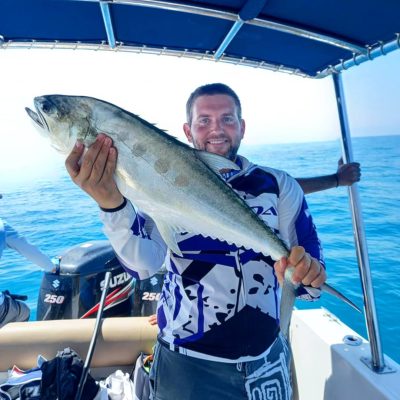 Types of Fishing in Dubai
When planning a fishing trip in Dubai, you can be sure to expect an intense bite. Even the youngest fisherman will be able to show off their trophy catch. Freshwater fishing is only possible in artificial reservoirs, where fish live and are seen by locals and visitors as an element of decoration in this wealthy country.
The most popular fish in Dubai is the mighty sailboat. If you meet this monster, get ready for a fight that could last for hours. Along with this, the giant caeax, also known as Giant Trevally, lives in the waters of Dubai.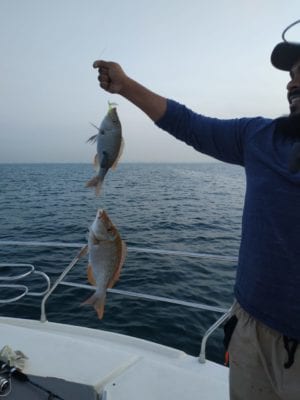 Sea Fishing in Dubai is a Fun Activity for Tourist
In an open sea
In the surf near the shore
On the reefs and surroundings
Deep sea fishing
You can find a variety of fish in the waters off the coast of Dubai, including sailfish, tuna, mullet, royal mackerel, dorado, and sharks. Barracudas are a special delight for any fisherman, and Ibrahim, Sherry, and Hammour are considered an exotic catch.
Bait and bait fishing are widely used in Dubai. In addition to deep-sea trolling and bottom fishing, you can also do casting (for large fish) as well as jigging. Crab fishing is also an exotic option, usually, this catch begins closer to dusk as well as takes place in shallow water.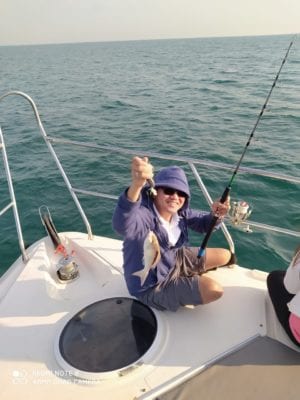 Best Spots for Fishing in Dubai
For those passionate fishing fans out there, Dubai is the perfect place to get your adrenaline pumping with the wide variety of available fish species to catch. With more than 500 different types of fish, Dubai is known to be one of the best fishing destinations that offer unique fishing spots and an abundance of marine life. And although there are many good places to go fishing in Dubai, it all depends on what you're trying to catch. From bridges to beaches, there are locations perfect for any type of fisherman. Not to mention, this city is an ideal place to combine a fishing trip with a relaxing holiday. So if you're ever looking for some good fishing spots in Dubai, here are some recommendations to choose from.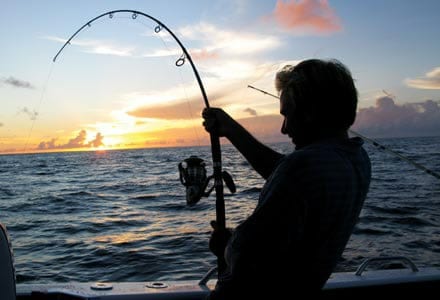 Bridges
If you're looking for a good place to fish in Dubai, you should check out Al Garhoud Bridge or Al Maktoum Bridge. The weather can get pretty warm in these locations, so make sure to bring plenty of water with you. These fishing spots are teeming with fish, so you're sure to catch something good! One downside is that it may get crowded here on weekends, so try to come during quiet time.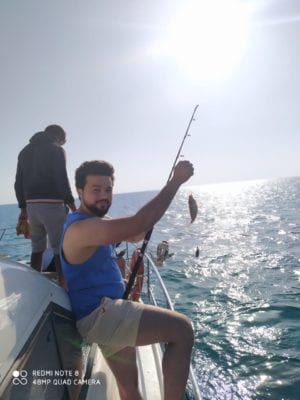 Beaches
If you're looking for a beach where you can fish, there are plenty of great options. Jumeirah Beach in Dubai is a great spot for fishing, and you can find plenty of Sarracudas and Sultan Ibrahim. Along with this, you can even enjoy watching the stingrays swimming. Some other popular beaches for fishing include Hameed, Al-Bateen, and Al Raha Beach. Just be careful while fishing in some of the rockier areas of the beach – they can be slippery!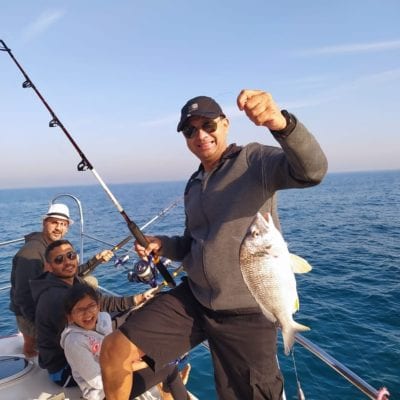 The Creek
The Dubai Creek Park is a great place to go recreationally fishing, especially if you're a beginner. You can sit back and relax in one of the many comfortable places in the park, and you don't even have to go far for refreshments since there are many shops nearby. If you're looking for an amazing fishing experience, though, deep-sea fishing in yachts is definitely the way to go. You can cook the fish you catch right then and there, and it's bound to be one of the best meals you've ever had.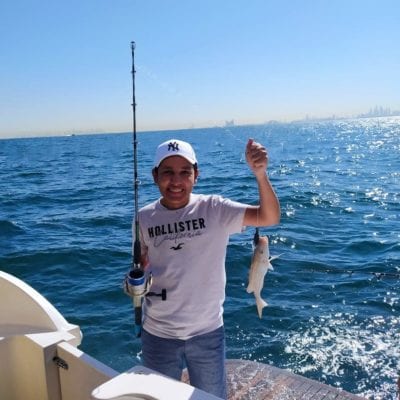 Deep Sea Fishing
Deep Sea Fishing in yachts is an effective option if you are looking for an amazing fishing experience. You can cook the fish you caught and have them afresh. It is going to be one of the most delicious meals you have ever enjoyed.
Nanje Yachts is famous for Yacht Party Dubai Rental but also offers the best services in Deep Sea Fishing. The Yacht Rental Dubai with us can be done on a daily or hourly basis, and also can be booked for days together. We also offer 5-star catering services and live BBQs onboard. We ensure maximum maritime safety to maintain the integrity of life. Book a yacht at the lowest price and celebrate the special events with your family. When you are planning for a bigger event, a rental yacht in Dubai is the perfect option with excellent services and crew onboard.